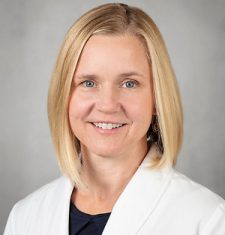 Jennifer Graves, MD, PhD
Dr. Graves is a graduate of Rice University (1996) and earned her medical degree (2006) and doctorate in Biophysics (2006) at the University of Texas Southwestern Medical School. She completed her residency in neurology (2010) as well as a fellowship in neuro-ophthalmology (2011) at the University of Pennsylvania. She has additional fellowship training in multiple sclerosis from the UCSF adult and pediatric MS Centers (2012). She is board certified in neurology.
Dr. Graves' clinical interests include adult and pediatric demyelinating disease and neuro-ophthalmic disorders, with specific interests in multiple sclerosis and optic neuritis. Her research interests include modeling the interactions between genetic and environmental risk factors for developing demyelinating diseases and the effects of these risk factors on relapse rate and disability. She has been a recipient of awards from the National MS Society and the Foundation for the Consortium of MS Centers. At the University of Pennsylvania, she received the Arthur K. Asbury award for Clinical Excellence.